The entries of ACTION team of Northeastern University adopted BEWIS fiber optic gyroscope and obtained excellent results.
Recently, the annual "asia-pacific university robot competition" ended in ulan bator, the capital of Mongolia. The theme of this year's asia-pacific university student robot competition is "speed up the horse and whip up the whip". Each participating team needs to make two robots, one manual wheeled robot (MR1) and one automatic four-legged robot (MR2).Messenger MR1 passes through the barrier to hand over the token. Messenger MR2 will take the card to the of the mountain. After MR1 reaches 50 points by throwing animal bones, MR2 can reach the and raise the token, which will be regarded as victory.
In the final of the 18th asia-pacific university robot competition in 2019, the ACTION team of Northeastern University, representing China, won the third place from 17 teams from 16 countries and regions. Meanwhile, the ACTION team was awarded the technology award.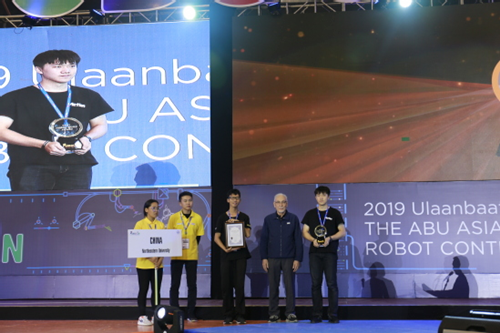 The ACTION team of Northeastern University, which has won the fourth consecutive robot championship among college students in China, made full preparations before the competition. In order to control the robot accurately, the ACTION team finally chose the BEWIS sensing fiber optic gyroscope after comparing the products of many domestic inertial attitude sensor suppliers.
After research and discussion, they finally decided to install fiber optic gyroscopes on both robots to determine the robot's azimuth and direction.The robot installed with BEWIS sensing fiber gyroscope is invincible in the competition field. After fierce competition, the ACTION team of northeast university reached the last eight in the group stage with a clean sweep, and finally won the third place in this competition and achieved excellent results.
The fiber optic gyroscope selected by Northeastern University has the characteristics of low cost, large working bandwidth, high resolution, small zero drift, high linearity, short starting time, impact resistance and vibration resistance, it is an alternative to traditional mechanical gyros. BEWIS sensing fiber optic gyroscope adopts unique IntelliProcess technology and built-in high-performance digital signal processing chip to realize full digital operation mode.The adaptive filtering technology reduces the zero error and angular velocity random walk of gyroscope by 50%-75% compared with similar products. It not only eliminates the influence of temperature change on the performance of gyroscope to the greatest extent, but also significantly improves the zero deviation stability, Angle random walk, linearity of scale factor, stability and other key indexes of fiber optic gyroscope.Its extremely low zero bias stability, angular random walk and strong vibration resistance make it suitable for motion sensing, platform stability, navigation and precise aiming.
In addition to robot competitions, more and more technological products are applied to our life. How to make them smart and convenient is inseparable from the support of Internet of things sensing technology. Every step needs comprehensive consideration. BEWIS sensing will continue to optimize the sensing technology to contribute to China intelligent manufacturing.