Recently, the Jiangsu Provincial Department of Industry and Information Technology issued a notice on the issuance of the "Jiangsu Province Urban Lifeline Safety Engineering Sensing Monitoring Equipment Product Catalog", which includes two self-developed inertial attitude sensors from BWSENSING, they are the inclinometer BW-BWS500 and the wireless inclinometer BW-FG-WM400. They are widely used in the field of Internet of Things structural health monitoring, aiming to further improve the safety and intelligent monitoring level of urban infrastructure in Jiangsu Province.

Additionally in the first issue of "Emergency Equipment Technology" compiled by the Ministry of Emergency Management, BWSENSING 's LR-WM400 wireless inclination sensor was also specially included for house monitoring and has become an important tool in emergency response and disaster management. This move also further highlights the technical advantages and industry status of BWSENSING 's intelligent sensing equipment in the field of IoT structural monitoring.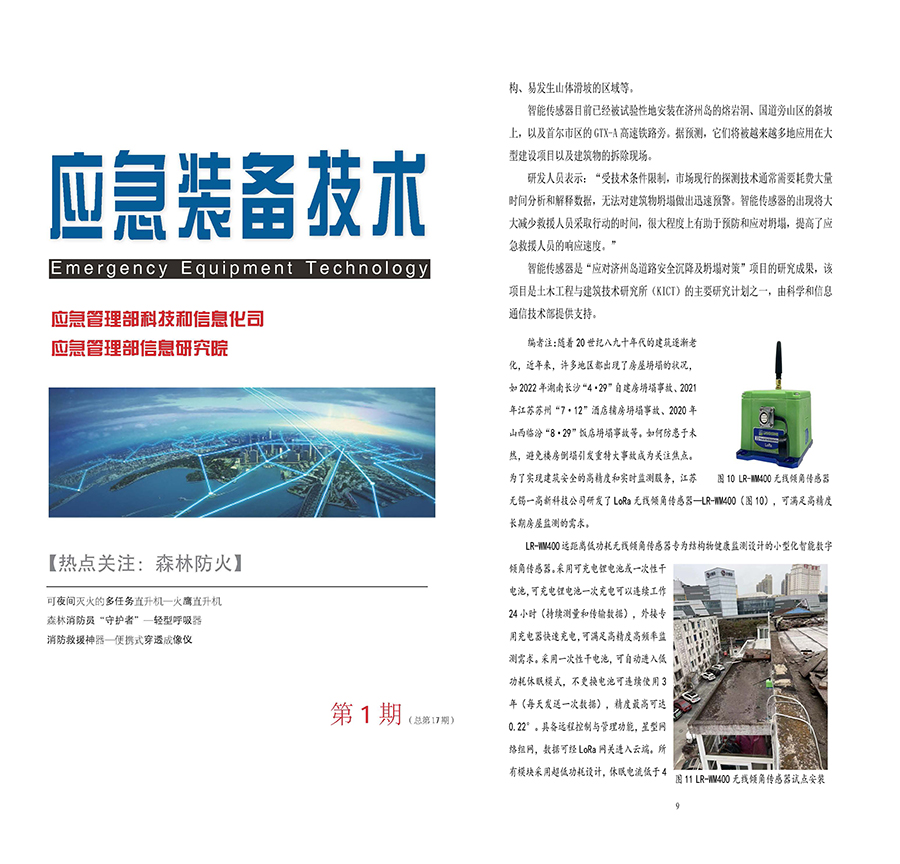 BWS5000 is a dual-axis high-precision Inclinometer with MEMS technology and digital output launched by BWSENSING. It is currently the highest accuracy product in the industry. The product is easy to install, simple to use, small in size, resistant to external electromagnetic interference, and strong in vibration and impact. It is the recommended choice for inclination measurement in surveying and mapping industries!
FG-WM400 4G wireless transmission inclination sensor is a compact and intelligent digital inclination sensor designed for structural health monitoring. Sensitive mechanism using the latest technology, microelectromechanical production process of the tilt unit, small size, low power consumption, consistency and stability is very high, because it is a digital tilt sensing module, linearity is more easily corrected.
LR-WM400 long-distance low-power wireless inclination sensor is a miniaturized intelligent digital inclination sensor independently developed and produced by BWSENSING and specially designed for structural health monitoring. Built-in disposable dry battery (optional rechargeable battery), it can automatically enter low-power sleep mode and can be used for up to 5 years without replacing the battery (data is sent once every hour), which can meet the needs of high-precision long-term monitoring.
As intelligent monitoring sensors, they can provide more data support and have excellent timely warning capabilities for structural deformation/collapse/tilt, assisting decision-makers and rescuers to more accurately understand potential risks and take timely actions to reduce or even avoid the loss of life and property.
BWSENSING 's inclination sensors have been widely used in the field of Internet of Things structural monitoring, including building monitoring of urban lifelines, bridge monitoring, underground pipe corridors and tower pole monitoring. BWSENSING also has outstanding performance in the fields of intelligent driving and automation. Relying on its strong technical strength, it has been recognized and supported by leading companies in various fields.
BWSENSING is proud that government sectors show great interesting in its inclinometers. This is undoubtedly a high recognition of BWSENSING technology innovation. At the same time, we also look forward to cooperating with more enterprises and scientific research institutions to jointly promote the innovation and application of intelligent sensing technology and make greater contributions to China's "smart" manufacturing!